The structure of mixed-species bird flocks, and their response to anthropogenic disturbance, with special reference to East Asia
Received: 15 August 2014
Accepted: 2 June 2015
Published: 1 August 2015
Abstract
Mixed-species flocks of birds are distributed world-wide and can be especially dominant in temperate forests during the non-breeding season and in tropical rainforests year-round. We review from a community ecology perspective what is known about the structure and organization of flocks, emphasizing that flocking species tend to be those particularly vulnerable to predation, and flocks tend to be led by species that are able to act as sources of information about predators for other species. Studies on how flocks respond to fragmentation and land-use intensification continue to accumulate, but the question of whether the flock phenomenon makes species more vulnerable to anthropogenic change remains unclear. We review the literature on flocks in East Asia and demonstrate there is a good foundation of knowledge on which to build. We then outline potentially fruitful future directions, focusing on studies that can investigate how dependent species are on each other in flocks, and how such interdependencies might affect avian habitat selection in the different types of human-modified environments of this region.
Keywords
Biodiversity crisis
Biological networks
Community assembly
Competition
Interspecific communication
Keystone species
Mutualism
Predation
Introduction
Mixed-species flocking of birds (hereafter referred to as "flocking") is a well-studied, broadly distributed biological phenomenon. It occurs in many different kinds of ecosystems, including pelagic, wetland, and grassland systems, and in many different groups of birds including waterfowl, wading birds, and granivores (see review of Harrison and Whitehouse
2011
). Most research, however, has concentrated on flocks in forested systems, for which there are flock descriptions from all continents other than Antarctica (Fig.
1
; see review by Powell
1985
; and meta-analysis by Sridhar et al.
2009
), and such forest flocks will be the focus of this review. Mixed-species flocks must be distinguished from assemblages that gather at a localized resource in that they are always moving (Powell
1985
), and most species involved in forest flocks are insectivorous, with some exceptions (Munn
1985
; Powell
1985
). In some habitats, such as temperate forests in winter and lowland tropical forests, mixed-species flocks dominate entire bird communities (for example, in some areas more than half of all birds are found within them; Eguchi et al.
1993
; Latta and Wunderle
1996
; Goodale et al.
2009
).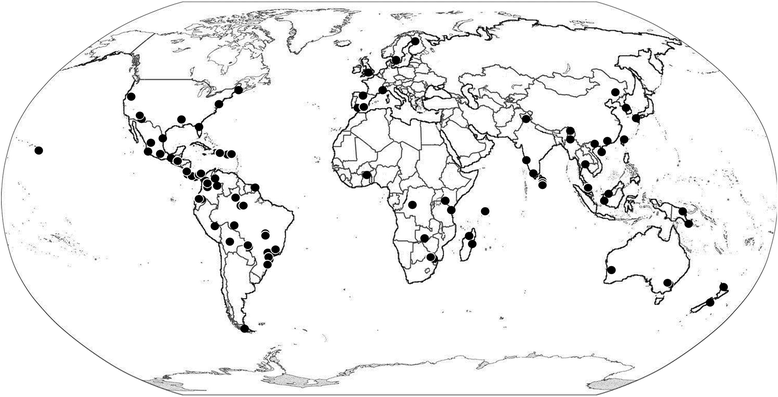 Given this broad distribution and dominance of mixed-species flocks in some areas, any study of bird community organization must incorporate them in some way. Mixed-species flocks qualify as "community modules" (sensu Holt 1997) in which biotic interactions such as competition, mutualisms, and predation are highly concentrated in space and time and, therefore, are especially amenable to scientific investigation, and naturally interesting to community ecologists. One approach derived from community ecology is to analyze flocks as a subset of the avifauna, and to try to understand and predict which species should be in flocks and what roles different species play (Goodale et al. 2010). A second and perhaps more difficult approach is to ask how flocks affect the overall bird community. A recent review (Harrison and Whitehouse 2011) argued that, in an evolutionary sense, the behavior of some species in mixed-species flocks has created unique ecological niches for other species. But the role of species in creating niches for others is also relevant in ecological time, to understand the importance of flocking to conservation. If the presence of flocks alters the fitness and distribution of the species that participate in them (e.g., Jullien and Clobert 2000), then any factors that cause flocks to break down could alter the entire composition of communities. This issue is of special concern given the mounting evidence that a wide array of anthropogenic threats negatively affects flocks (Van Houtan et al. 2006; Mokross et al. 2014; see also section below on this topic). Potentially, the loss of a few crucial members of mixed-species flocks as a result of anthropogenic habitat alteration (e.g., habitat fragmentation, silviculture) could reduce the fitness of many other species.
The purpose of this review is to examine the ecological organization of mixed-species flocks, to understand how the structure of these communities might influence their response to human disturbance, and then to outline future directions of research on these issues, especially in East Asia, where human disturbance is pervasive. The review is organized as follows. In the first section, we describe what is known about flock community assembly: what determines which species do and do not join flocks and what are the characteristics of species that lead flocks. In the second section, we review how human habitat modification affects flock structure, and discuss whether participating in flocks causes organisms to be particularly vulnerable or resistant to such disturbance. In the third section, we review studies of flocks in East Asia, which have not before been summarized, and ask what foundation we have to build upon. In the fourth section, we propose some lines of research that fill the gaps in knowledge identified in the previous sections. We suggest that East Asia presents unique opportunities to understand the level of interdependence of the species that participate in flocks and the implications of mixed-species flocking for conservation.
While the benefits of mixed-species flocking to birds is not the focus of this review, it remains an important backdrop to the issues we discuss, and hence a quick review is necessary. There are two main hypotheses underlying the benefits of flocks: improved foraging efficiency and increased predator avoidance (Morse 1977; Sridhar et al. 2009). These two hypotheses apply to both mono-specific and multi-species flocks and are not mutually exclusive; indeed, they interact because reduced individual investment in vigilance can lead to increased investment in foraging (Caraco et al. 1980; Sullivan 1984; Sridhar et al. 2009). Although there is strong evidence that conspecific groupings allow animals to find food through social information sharing (Galef and Giraldeau 2001; Aplin et al. 2012), the evidence that birds learn about food from heterospecifics in flocks is limited (Krebs 1973; Waite and Grubb 1988), with the exception of a class of sallying birds that catch insects disturbed by other species or even kleptoparasitize them (Hino 1998; Satischandra et al. 2007; Sridhar and Shanker 2014). In contrast, the evidence that birds reduce their predation risk in flocks through a variety of mechanisms is strong and continues to accumulate (Thiollay and Jullien 1998; Thiollay 1999a; Sridhar et al. 2009). The reader is referred for further reading to a series of reviews over several decades: Morse (1977), Diamond (1981), Powell (1985), Greenberg (2000), and Colorado (2013).
Conclusions
In the introduction, we summarized two different approaches to studying the community ecology of mixed-species flocks: 1) how are these subsamples of an avian community organized in terms of which species are included and which species play important roles, and 2) how does the flock phenomenon influence the structure of the overall community? Research on mixed-species flocks has so far focused on the more manageable first approach. Yet the set of questions involved in the second approach are, we believe, particularly important to understanding the implications of flocking for conservation. While the current research suggests that flocks are negatively affected by human disturbance, we still do not understand what happens to birds when flocks disappear or how can we enhance their persistence. The ecological breadth of the region, the vast amount of human-modified habitats, and the increase of skilled observers and potential students of flocking, afford tremendous opportunities for East Asia in the century to come.
Declarations
Acknowledgements
We thank Aiwu Jiang, Yang Liu, Toshitaki Suzuki, Qiang Zhang, Chao Zhao, Jian Zhao and Fasheng Zou for discussion of East Asian mixed-species flocks and their help in obtaining the literature, and two anonymous reviewers on their constructive comments for improving the manuscript. EG is grateful to the 1000 Plan Recruitment Program of Global Experts of the People's Republic of China and the Special Talent Recruitment Program of Guangxi University for support.
Authors' Affiliations
(1)
Department of Forestry, Guangxi University, Nanning, China
(2)
College of Life Sciences, Zhejiang University, Hangzhou, China
(3)
Wildlife Conservation Society, China Program, Beijing, China
(4)
Department of Biology, San Francisco State University, San Francisco, USA
(5)
Department of Biology, University of Florida, Gainesville, USA
(6)
Florida Museum of Natural History, University of Florida, Gainesville, USA
Copyright
© Goodale et al. 2015
This is an Open Access article distributed under the terms of the Creative Commons Attribution License (http://creativecommons.org/licenses/by/4.0), which permits unrestricted use, distribution, and reproduction in any medium, provided the original work is properly credited. The Creative Commons Public Domain Dedication waiver (http://creativecommons.org/publicdomain/zero/1.0/) applies to the data made available in this article, unless otherwise stated.