Population structure and mating system of the Red-crested Korhaan (Lophotis ruficrista) in South Africa
Received: 8 December 2014
Accepted: 9 December 2014
Published: 24 December 2014
Abstract
Background
The mating system of the korhaans and bustards in southern Africa is either based on polygyny or monogamy. The Red-crested Korhaan (Lophotis ruficrista) has been described as polygynous but otherwise very little is known about its breeding biology. The aims were to describe the population structure and male behavior during breeding.
Methods
The data collected for this paper was mainly based on field transect surveys carried out in 2009, 2010 and 2011. The population structure of the Red-crested Korhaan in the temperate Borakalalo Game Reserve (BGR) was compared with that in the arid Molopo Nature Reserve (MNR) (both situated in the North West province of South Africa). The study was mainly conducted in the BGR but additional work was conducted in the MNR for comparison.
Results
The difference in mean group sizes between MNR (1.03) and BGR (1.07) was statistically not significant. Group sizes were not affected by climate despite the fact that the BGR received about 650 mm precipitation per annum and the MNR about 200 mm. In both reserves the apparent sex ratios were skewed in favor of males (1:0.29 in the BGR and 1:0.1 in the MNR). The population was dispersed in a clumped manner which is ascribed to the formation of leks. Leks were positioned in open habitat while females invariably concealed themselves under cover.
Conclusions
The leks formed the pivot of the mating system of the Red-crested Korhaan and are identifiable social structures that field ecologists can use to monitor population stability.
Keywords
Lophotis ruficristaLeksMating systemDispersionGroup size
Background
The name "korhaan" is used in South Africa to denote the smaller bustard species (Hockey et al. [2005]). The ecological behavior of bustards (genera: Neotis and Ardeotis) and korhaans (genera: Lophotis, Afrotis, Eupodotis and Lissotis) in Africa is poorly documented, yet these birds face many environmental threats (Broders et al. [2003]). The range and density of a number of these species have been reduced by habitat fragmentation and modification, collision with infrastructure, disturbances and climate change (Hockey et al. [2005]; Allan and Anderson [2010]).
The mating system of the korhaans and bustards in southern Africa is either based on polygyny or monogamy (Hockey et al. [2005]). The Red-crested Korhaan (Lophotis ruficrista, focus of this present study) has been described as polygynous but otherwise very little is known about its breeding biology (Kemp and Tarboton [1976]). Recently van Niekerk ([2014]) provided a detailed account of its vocal repertoire and demonstrated that males call in clusters to attract females. There was constant chasing and competition between males in these clusters (van Niekerk [2014]).
It should be noted that the Northern Black Korhaan (Afrotis afraoides) is also polygynous. Males gather in groups of 4–6 but territorial males repel intruders through chases. These males display to 2–3 females simultaneously and their females also defend their own territories (Allan [2005a]). The Karoo Korhaan (Eupodotis vigorsii) is monogamous and lives in extended family groups or pairs. The group remains in a territory year round which is defended actively by the male (Allan [2005b]). The Blue Korhaan (E. caerulescens) is also monogamous and lives in pairs or extended family groups in territories (Allan [2005c]). Unlike the smaller korhaans, Ludwig's Bustard (Neotis ludwigii) and Kori Bustards (Ardeotis kori) form leks at regularly used sites. About 1–3 males may occur at a lek about 300 m apart. Ludwig's Bustard males defend their immediate display areas (Allan [2005d] and [2005e]).
The distribution of the Red-crested Korhaan (Lophotis ruficrista) is mainly limited to Namibia, Botswana, Zimbabwe and South Africa. It is not threatened but its habitat has been reduced by intensive agriculture in Swaziland and the north east of South Africa and by overgrazing in Zimbabwe ([Allan 2005f]). These birds are hunted by local people but very little information is available, or efforts made, to determine a sustainable harvesting strategy (Hitchcock et al. [1996]; JH van Niekerk, personal observations).
Collecting information on the breeding biology and mating systems is a vital part of all studies of the population ecology of birds. Population structure is founded on social interaction among individuals which is essential to identify fitness, gene flow and spatial patterns required for conservation strategies (Green, [2004]; Whitehead, [2008]). In order to describe the population structure and mating system of the Red-crested Korhaan my aims were: 1) to provide basic information on group sizes, demography and dispersion in space and time and 2) to demonstrate that Red-crested Korhaan males form dispersed leks.
Leks are usually regarded as small clustered court areas where males gather to display and compete for females during the breeding season (Sutherland et al. [2004]). According to Bradbury ([1981]) a lek possesses four inherent characteristics: 1) no male parental care; 2) males must aggregate to display; 3) females select a male from the lek to breed with and 4) males are the only resource that females find in a lek. However, Hӧgland and Alatalo ([1995]) proposed the 'non-classical' lek which is known as the dispersed (or exploded) lek. Dispersed leks mean competing males are separated by considerable distances and females may indeed raise their offspring in these areas. In other words, there are more resources in the lek than just males as proposed by Bradbury ([1981]). According to Morales et al. ([2001]) dispersed leks are particularly characteristic of bustards.
Methods
Two reserves from two different climate regions were chosen for field work. The study was mainly conducted in the Borakalalo Game Reserve (BGR) but some additional work was carried out in the Molopo Nature Reserve (MNR) for comparison. The 140 km
2
BGR (25°12′S, 27°49′ E) is situated in the North West province, South Africa. The vegetation is described as Western Sandy Bushveld (Mucina and Rutherford [
2006
]). The climate is temperate with an annual rainfall of ~650 mm. The 244 km
2
MNR (25°47′S, 22°56′E) is in the same province, about 520 km from the BGR (see Figure
1
). The vegetation is described as Molopo Bushveld with grass cover broken by patches of open desert sand (Mucina and Rutherford [
2006
]). The climate is arid, with an annual rainfall of ~200 mm (Chittenden et al. [
2012
]). Both sites were proclaimed as reserves in the 1980s and the BGR still has degraded areas that are indicative of overgrazing by livestock.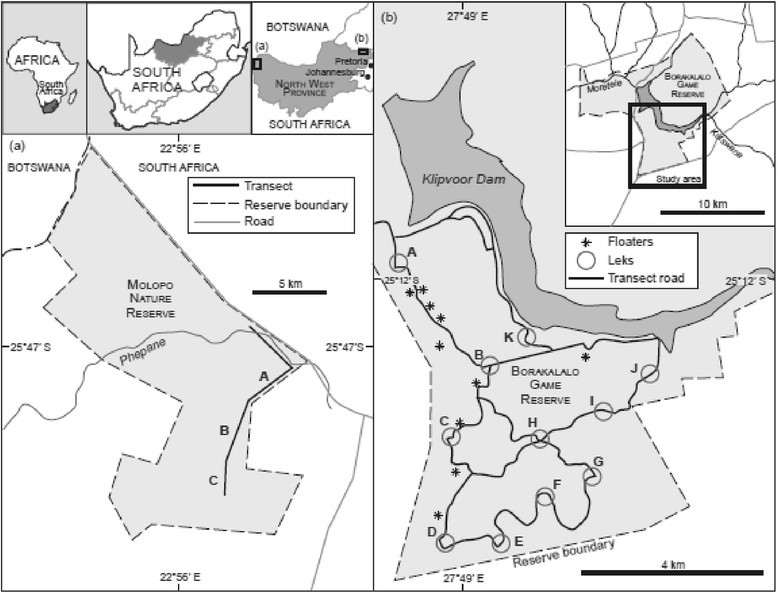 The Red-crested Korhaan usually lives under relatively dense cover (Kemp and Tarboton [1976]). However, preliminary field surveys were conducted in both reserves from 2000 to 2009; these revealed that the detectability of korhaans was not affected by the understory for a distance of 75 m from the transect/road. Males were vocal throughout the year (van Niekerk [2014]). Females were sighted during winter in both reserves, but they became more elusive during the breeding season when ground cover was denser following summer rainfall; however, individuals were often heard during male–male calls. Vigorous responses to sound playback by males throughout the year, spontaneous sounds and the visual sighting of korhaans were used collectively to record individuals and groups on maps of both reserves during each transect route for this survey (Constantine [2013]; see van Niekerk [2014] for details on sound recorders and methods).
Visually, males are distinguished from females by their two white breast patches and distinctly darker crown feathers, while females typically have a white band across the upper breast area and a spotted crown. Sub-adults generally resemble females, but are more speckled on the neck and back ([Allan 2005f]).
For the period of December 2009 to January 2011 Red-crested Korhaans were counted and observed along a fixed transect route (dirt road) in the BGR. This transect was traversed on 42 occasions. This was conducted three times per month (three transect surveys) totalling 140 hours. These three monthly surveys were carried out over a period of two days, conducted during two mornings (7:00–10:00) and one late afternoon (15:00–18:00) survey from a slow-moving vehicle (8–10 km/h). The transect crossed through all major landscapes and habitat types including woodlands (mainly Terminalia sericea), along the southern shoreline of the Klipvoor Dam (5 km), in overgrazed areas, eroded areas, burnt areas and savannah (scattered trees with grasslands) in a southern section of the BGR (Figure 1). The transect was 20 km long with a width of 150 m, that is 75 m on either side of a dirt road. The roads were quiet with an average of one other vehicle encountered every four hours. During traversing scanning was conducted continuously from the vehicle and playback was done at ~200 m intervals (Sutherland et al. [2004]).
One hundred hours were also spent counting and observing Red-crested Korhaans in the MNR, which was visited during June 2009, December 2009, June 2010 and February 2011, with each visit lasting four days. This transect (150 m wide and 18 km long) was traversed on 21 occasions in the mornings (7:00–10:00) and late afternoons (15:00–18:00) with a slow-moving vehicle (8–10 km/h). The vegetation along the transect mainly consisted of acacia trees interspersed with scrubland and tallish grass. The middle sector of this transect traversed along a neighboring farm where bushes were removed to encourage the propagation of grassland (Figure 1A), then through the office complex of the reserve (Figure 1B) and finally ended at a water hole (Figure 1C). The scanning method used in the BGR was also applied here but fewer vehicles were encountered, about one per day.
The dispersion of korhaans was studied in order to determine how the population responded spatially to local environmental conditions. I used binoculars (8 × 43 magnifications) and recorded the number of birds, determined sex and age composition of groups and plotted it on a map. A Colorado GPS was used to plot the position of all sighted korhaans. Theoretically, individual or group of birds in a population may be dispersed in one of three spatial patterns: 1) a clumped dispersion occurs when there is habitat/landscape heterogeneity or it may be a function of social forces such as grouping; 2) a uniform dispersion is normally associated with territoriality and 3) a random dispersion is associated with a non-predictive pattern caused by fragmented habitats (cf. Odum [1971]; Khan and Mian [2013]). The density of korhaans was determined per fixed transect areas, i.e., 300 ha for the BGR and 270 ha for the MNR. Information on rainfall for the BGR was obtained from the park offices to correlate monthly rainfall with mean monthly group sizes but this correlation was not carried out for the MNR due to a limited number of observations. A group was defined as two or more korhaans with a "flock spread" of not more than 10 m between two furthest birds in the group.
Conclusions
How is a polygynous system, compared to a monogamous system (e.g. Karroo Korhaan) beneficial to the survival of the Red-crested Korhaan? After all, only 5% of all bird species engage in polygyny (Hasselquist and Sherman [2001]). Theoretically, in a monogamous system the male protects the resources of a territory, as well as his female and offspring for at least part of the year (Hasselquist [1994]). The polygynous system of the Red-crested Korhaan appears to be disadvantageous. The solitary female raises one chick in arid conditions which leaves her care after 3 to 4 months. According to [Allan (2005f)] the brood size success average is 1.1. As well, the Red-crested Korhaan breeds seasonally which means that the early death of a chick is not replaced in the same year.
Indeed, polygyny does not contradict the solitary lifestyle of this korhaan (mean group sizes < 2) since polygyny in this study infers that individuals only meet for a short while. A solitary lifestyle is probably a strategy by the Red–crested Korhaan to survive in arid conditions. On the other hand, polygyny combined with lekking increases the chances of a male to assert his reproductive output among females that live dispersedly and solitarily. Furthermore, in accordance with the theoretical views of Orians ([1969]), females in polygynous systems, such as Red-crested Korhaan females, may prefer to mate with already paired males in good habitat rather than monogamously with a male in a poor habitat. During the breeding period, all males were engaged in lek activities (e.g. calls, chases and aerial displays) which meant that male interlopers were not available to engage in extra-pair copulation. This could possibly contribute to a low juvenile count. Indeed, this does not exclude the possibility that females may copulate with more than one male during lekking but this would have been restricted to the breeding season.
The elusive behavior of Red-crested Korhaan females is ascribed to their solitary lifestyle. They are less vocal than males and invariably seek cover when confronted by intruders (van Niekerk [2014]). One of the functions of grouping behavior would indeed be to provide more than one pair of eyes ("many-eyes hypothesis") to scan the area for predators (Pulliam [1973]). Instead, the preference of female korhaans for cover compensates for the loss of shared predator surveillance that groups offer.
Lek-formation is the pivot of the mating system of the Red-crested Korhaan and affects the manner in which populations are dispersed. Should habitat management become important to conserve these korhaans, a landscape with openness for leks and patches with relatively dense scrub cover for females would constitute an important requirement. These annually used leks are social structures at fixed locations that field ecologists can use to monitor the number of leks and the number of males in a lek, i.e., population stability. A study on movement (with marked birds), diet and food availability may throw more light on the driving forces (intrinsic/extrinsic) that determine group sizes and dispersal strategies.
Declarations
Acknowledgements
I thank Ann-Elizabeth Jones for assistance during field excursions.
Authors' Affiliations
(1)
Department of Environmental Sciences, College of Agriculture and Environmental Sciences, University of South Africa, Pretoria, South Africa
Copyright
© van Niekerk; licensee BioMed Central. 2014
This article is published under license to BioMed Central Ltd. This is an Open Access article distributed under the terms of the Creative Commons Attribution License (http://creativecommons.org/licenses/by/4.0), which permits unrestricted use, distribution, and reproduction in any medium, provided the original work is properly credited. The Creative Commons Public Domain Dedication waiver (http://creativecommons.org/publicdomain/zero/1.0/) applies to the data made available in this article, unless otherwise stated.