Geographic variation in sexual selection and implications for speciation in the Barn Swallow
Received: 26 November 2014
Accepted: 27 November 2014
Published: 24 December 2014
Abstract
Barn Swallows (Hirundo rustica), a group of passerine birds comprised of six closely related subspecies, are well known throughout their nearly worldwide distribution, in part because of their close association with human settlements. A tractable species for both individual-based and population-level studies, Barn Swallows are a prominent model system in evolutionary, ecological, and behavioral research. Here we review work on sexual selection and population divergence in this species complex, focusing on comparative studies among populations and subspecies. We summarize variation in the targets of mate choice and in the information conveyed by sexually selected traits, and conclude that the benefits advertised by different traits may vary geographically. Finally, we consider the role of sexual selection as a driver of population divergence in this widespread and phenotypically variable species complex.
Keywords
Barn Swallow
Geographic variation
Natural selection
Sexual selection
Speciation
Tail streamers
Ventral color
Introduction
A spring and summer inhabitant of the Holarctic, the Barn Swallow (Hirundo rustica) is the most widespread species of the swallow family, Hirundinidae. The extensive breeding range of the Barn Swallow is believed to be due in part to their close association with human populations. Based on patterns of human colonization in Eurasia and recent phylogenetic studies in swallows, it appears that this association with humans has persisted for millennia (Zink et al. [2006]). Indeed, swallows will nest nearly everywhere there are barns or bridges, especially if these are situated near water and fields. In addition to human structures providing nest sites, swallows benefit from agriculture: the insects surrounding livestock are an excellent food source for these aerial insectivores. The Barn Swallow is thus well known and easily recognizable throughout rural areas worldwide, and has been the subject of extensive behavioral, ecological, and evolutionary research since the early part of the 20th century (reviewed in Møller [1994a]; Turner [2006]).
Barn Swallows are divided into six subspecies (del Hoyo and Elliott [
2014
], Figure
1
). The nominate form,
H. r. rustica
, breeds throughout Europe, North Africa, and western Russia and migrates to the Mediterranean and sub-Saharan Africa in the winter. Further east in Russia,
H. r. tytleri
occurs in the Baikal region and south into Mongolia, and is believed to overwinter in India and Southeast Asia. The phenotypically variable
H. r. gutturalis
overwinters in Southeast Asia and breeds in the Russian Far East, China, Japan, and Korea (although it has sometimes been divided into as many as four different subspecies throughout this range, del Hoyo and Elliott [
2014
]). Two subspecies with comparatively restricted ranges also occur in the Middle East and North Africa:
H. r. savignii
is a year-round resident in the Nile Valley in Egypt, and
H. r. transitiva
is a short-distance migrant breeding in Israel, Jordan, Lebanon, and Syria. A single subspecies,
H. r. erythrogaster
, occurs throughout North America and overwinters in Central and South America. A breeding population has also recently established itself in Argentina (Martínez [
1983
]).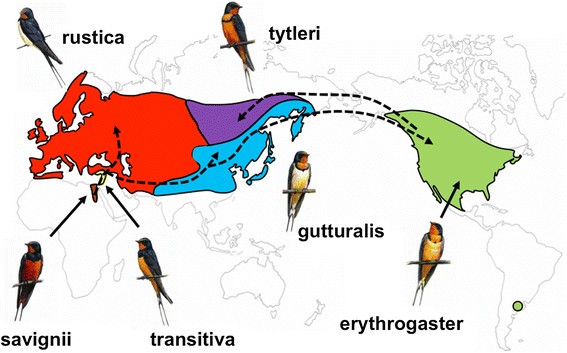 There is extensive phenotypic variation among these six subspecies, particularly in body size, the length of the "tail streamers" (the outermost tail feathers), and ventral color, which ranges from nearly pure white in some populations to a dark rusty orange in others (Figure
2
, reviewed in del Hoyo and Elliott [
2014
]). These latter two traits have been the subject of sexual selection research in several populations. Males of the European
H. r. rustica
are on average largest in body size, palest in ventral color and have the longest tail streamers of all of the subspecies (Møller [
1994a
], Safran et al. in review). The North American populations are on average much darker in ventral color, with tail streamers tending to be intermediate in length to other subspecies (Safran et al. in review). Populations of the two sedentary subspecies (
H. r. savignii
in Egypt and
H. r. transitiva
in the Middle East) have relatively large body size, dark plumage coloration, and long streamers (although
H. r. savignii
is darker and shorter-streamered than
H. r. transitiva
, (Vortman et al. [
2013
])).
H. r. tytleri
, in the Baikal region, is of intermediate body size and exhibits intermediate streamer lengths with dark ventral color, while East Asian
H. r. gutturalis
has very small body size, pale orange-brown ventral color, and the shortest tail streamers of all subspecies. Despite these broad phenotypic differences, there is latitudinal variation within subspecies and some overlap in some trait values between subspecies (Møller [
1994a
]). Within subspecies, there is sexual dimorphism in both streamer length and ventral color, although variation in female phenotype among subspecies mirrors male variation to some extent (Møller [
1994a
], del Hoyo and Elliott [
2014
]).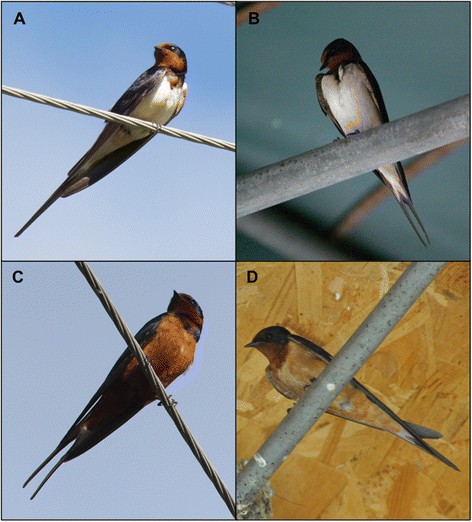 Phylogenetic reconstructions of the species complex indicate an African common ancestor, of which the Middle Eastern
H. r. savignii
and
H. r. transitiva
are likely the closest relatives (Figure
3
, Zink et al. [
2006
]; Dor et al. [
2010
]). Barn swallows then expanded their range throughout Eurasia, with
H. r. rustica
and
H. r. gutturalis
likely diverging a via vicariance events (Zink et al. [
2006
]). Birds from the Asian populations also crossed the Bering Strait to populate North America an estimated 100000 years ago, giving rise to the
H. r. erythrogaster
subspecies. Most interestingly, these North American swallows apparently re-crossed the Bering Strait and recolonized the Baikal region, as mtDNA indicates that
H. r. tytleri
is nested within the
erythrogaster
clade, and these two subspecies are much more phenotypically similar than
H. r. tytleri
is to the more geographically proximate
rustica
or
gutturalis
(Figure
2
). This range expansion and concomitant phenotypic differentiation among the six subspecies has occurred on a rapid evolutionary timescale (estimates are approximately 100000 years ago for the Asian-North America split and 27000 years ago for the North America-Baikal dispersal event, Zink et al. [
2006
]). Indeed, divergence is not complete, as hybridization and gene flow occur at most subspecies borders (Turner [
2006
]; Dor et al. [
2012
]). The patterns of phenotypic differentiation among subspecies, coupled with recent divergence and ongoing gene flow, have made the Barn Swallow system one of particular interest in the fields of sexual selection and speciation, which are the focus of this review.

The first studies of sexual selection in Barn Swallows were conducted in European populations of H. r. rustica, and focused primarily on the role of tail streamer length in mate choice. However, when research began on North American H. r. erythrogaster in the 1990s, it became apparent that streamer length played a different role in reproductive success in this subspecies than it did in Europe, although sample sizes for these studies were small (Smith and Montgomerie [1991]; Smith et al. [1991]). Geographic variation in the targets of mate choice has subsequently drawn attention to the role that sexual selection may play in population divergence and speciation in the Barn Swallow complex. Here, we first review what is known about the evolution and social function of streamer length and ventral coloration in different subspecies of Barn Swallow; these two traits have been the subject of the most extensive research. We also consider the role of song in sexual selection, which is less well studied than color and streamer length but nonetheless seems to play a role in both male competition and mate choice. We summarize data related to sexual selection on these traits in the different subspecies, and then consider the role of geographic variation in sexual selection pressures in population divergence and speciation. We do not discuss traits that have been studied in only a single subspecies of Barn Swallows (e.g., nest size, asymmetry, senescence), as there is no comparative data available. We conclude by highlighting future directions for ecological and evolutionary research on this species complex.
Review
Sexually selected traits in the Barn Swallow
Sexual selection was originally conceived by Darwin ([1871]) to explain the widespread presence in nature of elaborate and conspicuous traits that do not contribute to an organism's survival, and indeed often seem detrimental to its fitness. Darwin postulated that these traits evolve because they are attractive to members of the opposite sex and/or aid in competition for mates; hence, costly and elaborate traits could persist because they enhanced an individual's mating success, if not its survival. A sexually selected trait is therefore defined as any trait that assists an individual in the acquisition of mates or fertilizations (Andersson [1994]). These traits can evolve via female choice (i.e., females mate with males that display the most elaborate traits), or by male-male competition (i.e., males with the most elaborate traits are best able to monopolize access to fertile females). Both cases result in directional selection on traits because males with the most elaborate sexually selected traits are often those that enjoy the greatest reproductive fitness.
A central question in sexual selection research is why females prefer males that display showy and presumably costly traits. The most common explanation is that elaborate male traits advertise benefits a female may obtain by mating with that male. These benefits fall into two categories: direct benefits which affect female fitness, such as a male's ability to provide resources, good paternal care or high quality territories to his mate (Price et al. [1993]; Kirkpatrick [1996]); and indirect, or genetic benefits, which advertise a male's ability to produce attractive, healthy, or high-quality offspring (Iwasa et al. [1991]; Kirkpatrick [1996]). Both types of benefits models rely on sexual signals being "honest indicators" of male quality (Zahavi [1975]); that is, only the highest quality males have the surplus resources available to bear the costs associated with developing and maintaining elaborate traits (Grafen [1990]). More elaborate signals therefore advertise higher quality males who can provide better benefits, and females should choose to mate with males that exhibit the most elaborate version of the preferred trait (Grafen [1990]). A major focus of sexual selection studies is thus identifying the costs and benefits (both direct and indirect) associated with putative sexually selected traits.
Determining whether or not a trait is sexually selected requires extensive empirical work. Although it is often tempting to assume that any elaborate or sexually dimorphic trait (e.g., bright colors, ornamental feathers, or weapons) is sexually selected, these traits can also evolve for other purposes, such as mimicry, aposematic signaling, and species recognition (e.g., Jiggins et al. [2004]; Maan and Cummings [2008]; Price [2008]). To show that a trait is subject to sexual selection, a causal relationship between trait variation and reproductive success must be demonstrated. The best way to do this is using field experiments that manipulate a trait to be more or less exaggerated than average and then measuring the effects of this manipulation on some aspect of fitness, such as timing of breeding, pairing success, or number of offspring. Barn Swallows are a favored model system in sexual selection studies, as their most obvious sexually selected traits, tail streamers and color, are both relatively easy to manipulate (e.g., tail streamers: Møller [1988], [1989]; color: Safran et al. [2005]). Substantial work has thus been devoted to identifying the costs and benefits advertised by these traits.
From geographic variation in sexual selection to speciation
It is clear that many traits, at least some of which are sexually selected, vary among the different Barn Swallow subspecies. But what causes geographic variation in phenotype? And what are the consequences of this variation for population divergence and speciation? Answering these questions entails examining the roles of selective and non-selective processes in shaping phenotypic variation and patterns of reproductive isolation. New species form when individuals from different populations no longer recognize one another as potential mates, or opportunities for mating become limited by differences in habitat use or reproductive schedules (Mayr [1942]). In these cases, individuals are reproductively isolated and thus do not exchange genes; this is the first step towards speciation. Work in the field of speciation frequently focuses on identifying the processes that create barriers to gene flow among divergent populations. In this section we discuss the potential roles of natural selection, sexual selection, and drift in forming these barriers and driving phenotypic and population divergence in the Barn Swallow complex.
Speciation by natural selection, or "ecological speciation", occurs when populations living in different environments undergo adaptive evolutionary change via divergent natural selection. This process can form barriers to gene flow when divergent selection results in individuals being physically isolated from each other (i.e., in different ecological niches) or on different reproductive schedules (reviewed in Nosil [2012]). Ecological speciation can often be inferred if ecologically divergent pairs of populations exhibit greater reproductive isolation than ecologically similar pairs of populations of similar age (e.g. Funk et al. [2006]). Moreover, in cases of ecological speciation, the traits involved in divergent ecological adaptation should also contribute to reproductive isolation, and levels of gene flow in nature should decrease as ecological differences between populations increase (Nosil [2012]).
Reproductive isolation can also emerge via divergent sexual selection (Panhuis et al. [2001]; Ritchie [2007]). In this scenario, divergence in traits related to reproductive success contributes to barriers to gene flow among populations. If reproductive isolation is caused by divergent sexual selection, pairs of populations might be expected to be ecologically similar but possess divergent mating traits (Panhuis et al. [2001]).
Controversy has surrounded the role of sexual selection in speciation, particularly with respect to its relationship with divergent natural selection. At the center of this discussion is whether sexual selection alone can drive speciation, or whether ecological divergence is a prerequisite for the completion of reproductive isolation (Panhuis et al. [2001]; Bussière et al. [2007]; Safran et al. [2013]). Although there are some cases in which sexual or natural selection is the dominant process driving divergence (reviewed in (Kraaijeveld et al. [2011])), the most common scenario is that sexual and natural selection act together to drive variation in the traits used in reproductive isolation (Safran et al. [2013]; Scordato et al. [2014]). The pertinent question then becomes not which process is most important in causing speciation, but how the two processes interact, how the phenotypic traits used in mate selection and reproductive isolation are shaped by this interaction, and if interactions are consistent or predictable across systems (Arnegard et al. [2010]; Wagner et al. [2012]; Safran et al. [2013]).
Finally, some models of speciation do not include selection as a driver of divergence and reproductive isolation, but rather invoke a key role for chance events. These cases include speciation by genetic drift and founder-events/population bottlenecks. Although such models have a long history in speciation research, for example in the context of small populations colonizing islands, clear empirical support is relatively limited (reviewed in Coyne and Orr [2004]). However, when examining the causes of divergence and reproductive isolation among populations, adaptive divergence via selection cannot be assumed, and ruling out a role for random processes is critical.
Divergent ecological and sexual selection in Barn Swallows
Because the Barn Swallow complex has been the subject of extensive sexual selection research for decades and has several phenotypically variable subspecies that are tractable subjects for field studies, it is an ideal system in which to investigate the relative roles of ecological selection, sexual selection, and random processes in population divergence.
Several ecological variables could contribute to population and phenotypic divergence in Barn Swallows. There is variation in migratory distance among subspecies: some subspecies embark on migrations of many thousands of miles (i.e. European and North American populations), where as others are short-distance migrants or entirely sedentary (Middle Eastern populations; Møller [1994a]; Turner [2006]). Variation in migratory distance can exert natural selection on morphological factors like body size (Alerstam et al. [2003]) and the shape of the wings (Mönkkönen [1995]; Lockwood et al. [1998]). Moreover, different wintering grounds and migratory routes can result in variation in the length and timing of the breeding season: birds that migrate longer distances typically have shorter and more synchronous breeding seasons than short-distance migrants (Garamszegi et al. [2008]), which can translate into variation in selection on life history traits such as clutch size and incubation time, as well as mating strategies and parental care. Divergence in any of these traits could contribute to reproductive barriers, particularly if hybrids are unfit; for example, there is some evidence that the hybrid offspring of populations with different migratory pathways follow intermediate and maladaptive migration routes (Irwin [2009]).
Geographic variation in sexual selection pressures may also drive phenotypic divergence and generate reproductive barriers in Barn Swallows. As we have discussed in this review, decades of work on the different sexually selected traits in this species show that the relative roles of streamer length, coloration, and possibly song in mate choice and male-male competition vary among subspecies. Even among European populations there is variation the strength of selection on tail length, although it remains consistently positive among populations (Møller et al. [2006]). Likewise, the information conveyed by these traits varies geographically, with some evidence suggesting that long tail streamers in Europe advertise indirect benefits (Møller [1994a]; Møller et al. [1998a]); but see (Bro-Jørgensen et al. [2007]) for alternative explanations), whereas coloration has been suggested to advertise direct and indirect benefits in Japan(Kojima et al. [2009]; Hasegawa et al. [2012]), and could relate to both direct and indirect benefits in North America (Safran and McGraw [2004]; Safran et al. [2005]). If the relative importance of different types of benefits varies among populations, this may result in mate choice, and consequent directional selection, on different traits, leading to phenotypic divergence and reproductive isolation based on sexually selected signals.
There is some evidence that sexually selected traits act as reproductive barriers in Barn Swallows: in an Israeli population of H. r. transitiva, males with color and tail length manipulated to look like the geographically proximate H. r. savignii were not attractive to females, suggesting there may be some selection against heterotypic matings in this populations (Vortman et al. [2013]). These reproductive barriers are not complete, however: there is evidence for hybridization between H. r. rustica and H. r. tytleri in central Siberia, between H. r. tytleri and H. r. gutturalis in eastern Siberia (Turner [2006]), and between H. r. rustica and H. r. transitiva in Israel (Dor et al. [2012]), despite morphological differences between all these subspecies. Hybridization, if substantial, has the potential to reverse incipient differences among Barn Swallow subspecies. For example, it has been suggested that formerly geographically isolated subspecies in Asia may have been brought into contact by recent human settlement (Turner [2006]). If reproductive barriers are porous, there may be an eventual loss of differentiation between subspecies, resulting in a uniform hybrid swarm.
To understand the action of ecological and sexual selection and their relative roles in generating (or breaking down) reproductive barriers, we ultimately need to study the substrates on which selection acts; that is, sexually and naturally selected traits and, in the case of sexual selection, their associated preferences. Future work explicitly measuring natural and sexual selection on different aspects of the phenotype will continue to shed light on how these processes operate in the Barn Swallow system. New techniques for obtaining genome-wide estimates of selection are greatly advancing our ability to study the loci involved in reproductive isolation and identify signatures of divergence via adaptation versus random processes.
Conclusions and future directions
Here we have reviewed sexual selection research in Barn Swallows dating back nearly 30 years. Although this vast body of work has made Barn Swallows a model system in evolutionary biology, recent comparative studies show that much remains to be discovered in this species complex. Future comparative research addressing the relative roles of tail streamers, plumage coloration, and song in mating decisions across the different subspecies, as well as determining the information conveyed by these different signals, would help illuminate why the targets of female preferences appear to vary geographically. This work would be enhanced by ecological studies that focus on how different mating traits are shaped by natural selection as well as sexual selection, and by carefully designed experiments that can test the relative contributions of different selective processes to variation within and among subspecies. Finally, advances in genomic methods for detecting ongoing gene flow and the genetic basis of reproductive isolation present the possibility of studying reproductive barriers and causes of diversification among the different subspecies. Integrations of experimental, geographic, ecological, and genomic approaches are likely to yield new insight into sexual selection and speciation in the Barn Swallow complex over the coming decades.
Declarations
Acknowledgments
We thank W. Liang for the invitation to write this review, and A. Hund and M. Wilkins for comments on the manuscript. Support was provided by the National Science Foundation (DEB-CAREER 1149942 to RJS).
Authors' Affiliations
(1)
Department of Ecology and Evolutionary Biology, The University of Colorado, Boulder, USA
Copyright
© Scordato and Safran; licensee BioMed Central. 2014
This article is published under license to BioMed Central Ltd. This is an Open Access article distributed under the terms of the Creative Commons Attribution License (http://creativecommons.org/licenses/by/4.0), which permits unrestricted use, distribution, and reproduction in any medium, provided the original work is properly credited. The Creative Commons Public Domain Dedication waiver (http://creativecommons.org/publicdomain/zero/1.0/) applies to the data made available in this article, unless otherwise stated.